Coffee Concerts

September 25 at 11:00am
Trinity Goff, piano and organ


October 30 at 11:00am
Luke Welch, piano


November 27 at 11:00am
The "Vancouver Seraph Ensemble"


December 18 at 11:00am
"Vintage" Christmas show

Looking Down the Road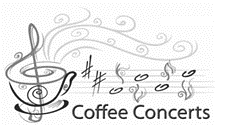 The Coffee Concerts are a joint ministry of Calvin Presbyterian and Valley CrossWay Churches. These events, arranged for your enjoyment, are held six to eight times a year, usually on the last Wednesday of the month.
10:00 – 10:45 am. We begin with a time of coffee and refreshments which is provided by the Calvin Presbyterian Church and is served in their Gathering Space.
11:00 am. At 11:00 we move to the Multipurpose Room for the concert. The Valley CrossWay Church is responsible for the arranging of artists for each concert.


Musical Instruments
A Concert Grand Piano
This nine-foot Yamaha Concert grand has found a new home at Valley CrossWay Church.
Joyce Schmidt purchased the piano in 1977 directly from Yamaha Canada after it had been featured in a Canada-wide, 20-city promotional tour. Until 2018 the piano has adorned the Schmidt home, travelling with them to places like Maui and Phoenix and, more recently, Abbotsford. Family and friends have enjoyed making music with this instrument through house concerts, benefit concerts and sing-a-longs.
We, at Valley CrossWay Church, are thrilled to have acquired this piano to enhance our Sunday morning worship and to provide a quality instrument for musicians who perform at our coffee concerts.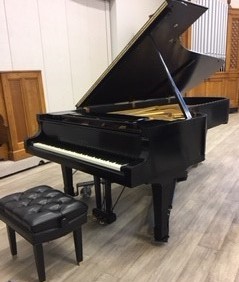 A Pipe Dream and an Organ Transplant
The story of the pipe organ began in May at our Coffee Concert. One of our church members was asked "Do you know anyone who wants to buy a pipe organ? Yes, a real pipe organ!" Recently our church had purchased a nine-foot concert grand piano and to purchase a pipe organ would be a dream come true. Considering that there was money left over in our instrument fund, we decided to check it out.
We eventually learned the background story. After World War II, the Québec organ builder Casavant built 100 pipe organs and shipped them to ten Canadian cities in kit form. Eventually one pipe organ that had been placed in a church in Winnipeg became available and a local Dutch farmer bought the organ, disassembled it, transported it to his farm in Langley, and reassembled it in a large garage. Two years ago, the farmer died, and now the farm had been sold. The organ had to go, and it was available at an affordable price.
This offer was too unusual to ignore, so a group of individuals from the church drove out to the farm to view this organ. It had been built in 1947 and was in excellent condition. It had a soft tone that would not overwhelm the hall in which we were meeting, plus an extra rank of bright oboe pipes that had been added to balance the mellow tone. All of the pipes fit neatly into a carved wooden portable cabinet, on a dolly with wheels, which would work well in our rented facility.
Upon the recommendation of the Church Board, the congregation was asked to prayerfully consider this purchase. Meanwhile, the Calvin Presbyterian Church (from whom our church leases space) was approached and they graciously granted permission for the organ to be installed in their building. At a church meeting a few weeks later the congregation affirmed the purchase, and our offer was accepted by the owners.
It took a full day with the help of many volunteers to dismantle the organ and transport it to our church facility. Reassembling the organ took about two weeks, guided by two gentlemen who are experts in the assembling of pipe organs.
We are very aware that our having these two wonderful instruments is nothing short of a gift from God. And so, our prayerful goal is that the Name of our Lord God will be honoured and glorified in all the music made on them.